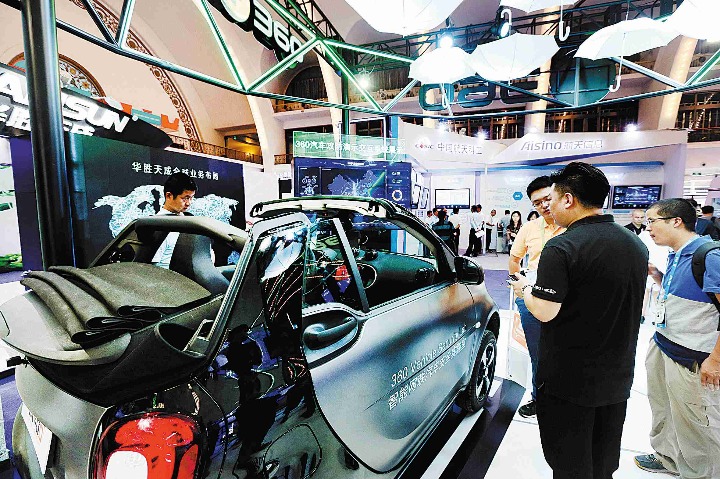 Automakers step up a gear in software services
Until recently, vehicle sales were the main way automakers made money. This is changing, with software becoming a source of revenue as vehicles become computers on wheels.
Vehicles capable of over-the-air updates are considered essential for automakers to generate recurring revenue through new technologies and subscriptions for video entertainment to driver assistance features.
Stellantis expects its software services and subscriptions to generate €4 billion ($4.5 billion) per year in 2026 and €20 billion in 2030. It gave this estimate when unveiling its software strategy last week.
The strategy will allow car buyers to install innovative features and services through regular over-the-air updates to keep their vehicles modern years after they were built, Stellantis said.
"Studies show that customers spend an average of four years of their life in their vehicle and it's only growing," the automaker said.
It plans to build vehicles from 2024 on a fully over-the-air updatable architecture. It's about breaking the current link between hardware and software, allowing developers to quickly build and update features and services without waiting for new hardware to launch.
Based on the architecture, AI-based applications such as navigation, voice assistance, e-commerce marketplace and payment services as well as self-driving capabilities will be upgraded wirelessly.
The automaker said the majority of all its new vehicles will be fully updated over the air by 2024. It plans to have more than 34 million monetizable connected cars by 2030, up from 12 million today. . Stellantis said "monetizable" is defined as the first five years of the vehicle's life.
"Software will improve our business model, disconnecting hardware from software…shifting the center of gravity of our business," said Stellantis CEO Carlos Tavares.
Tavares said the profit margins of these services should be more comparable to those of a technology company than those of a traditional automaker. The additional revenue stream could potentially double what the automaker earns today, chief financial officer Richard Palmer said.
Stellantis is the latest in a slew of automakers that have made software a mainstay of their future business.
Volkswagen established its software subsidiary Cariad in 2020, which now has around 4,500 engineers.
The German automotive group expects the proportion of internally developed software in its cars to increase from 10% currently to 60% by 2025.
Volkswagen said on Thursday that its CEO, Herbert Diess, will assume responsibility for Cariad from 2022. He estimates nearly a third of global mobility market revenue is expected to come from software-based services by 2030.
To tap into this potential, Volkswagen has earmarked 30 billion euros for digitalisation, including autonomous driving, by 2026, an increase of around 10% compared to the previous plan.
"By 2030, the world of mobility will have seen the greatest transformation since the shift from horses to cars in the early 20th century," Diess said. "The future of cars, the future of individual mobility, will be bright."
Automakers in China and the United States are also accelerating their efforts in smart functions.
Qin Lihong, president of Chinese startup Nio, said autonomous driving will be the most important feature of smart vehicles in the coming years.
Chinese tech companies such as Huawei and Baidu are also exploring the segment, offering their self-driving solutions to automakers.
In the United States, GM said in October that it aims to double revenue by 2030, including $80 billion from new technology-focused ventures such as its autonomous vehicle unit Cruise.
Ford has hired former Apple automotive project manager Doug Field to lead its advanced technology and in-vehicle systems efforts. Meanwhile, Renault in France is teaming up with Google to help design its infotainment systems.