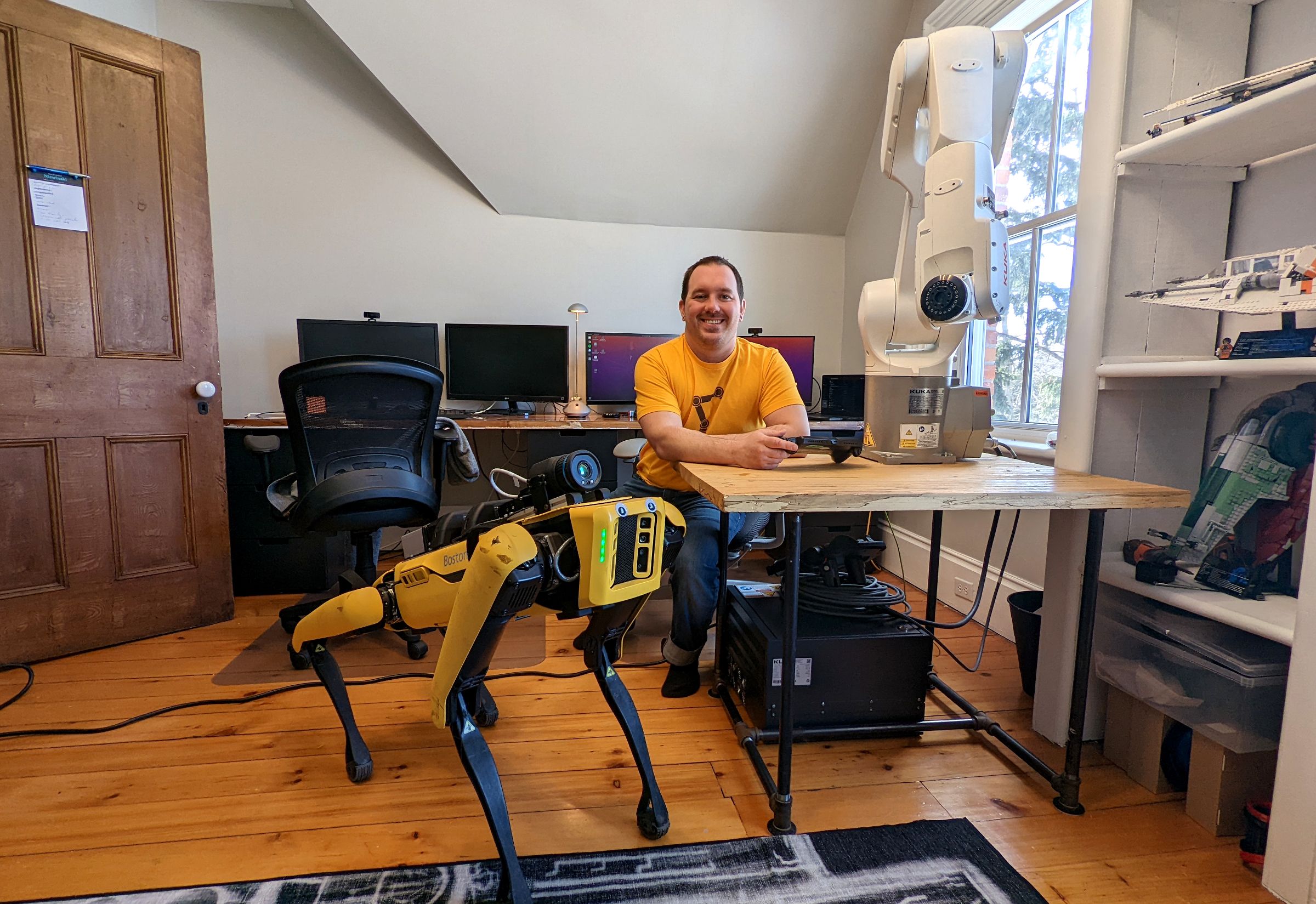 Perth East robotics consultant finds success on YouTube
Robotics consultant Dave Niewinski has made a name for himself on YouTube with his videos of himself, family and friends putting robots through their paces through creative challenges, competitions and daily tasks.
Content of the article
A Perth East robotics consultant has gained nearly 10,000 YouTube subscribers after creating videos of himself, friends and family putting the robots he is working on through a variety of challenges creative and daily tasks.
Content of the article
Millbank's Dave Niewinski of Dave's Armory has spent his entire career working with robots. From working on the wiring and programming of robotic arms used in industrial practices to designing software and working with advanced artificial intelligence, Niewinski has experience and knowledge in almost every facet of robotics.
"I'm not an expert in anything but I know a lot about a lot of things, so I have a very broad knowledge. I'm kind of a jack-of-all-trades when it comes to robotics," Niewinski said. "I'm always learning new things, and if I ever find myself in a place where I have no idea how to do (something), I have enough contacts in the industry that I can contact (to get advices)."
Although he now works as a consultant to help companies implement robotic systems and design software that combines robotics with technology his clients are already using, Niewinski said this was the launch of his YouTube channel a year and a half ago that gave him the exposure he needed to go out on his own.
"In previous jobs, I worked a lot directly with (robotics) manufacturers," Niewinski said. "When I was writing software to support their (robotic) arms, I had to go on-site to their facilities and work with their technicians to make their robots look good. So I have a lot of contacts with all of these various manufacturers, most of which are in Toronto.
"One day, on a whim, I contacted several of them and said, 'Hey, I want to make videos in my shop. Would you just lend me an arm? And they were like, 'Yeah.' … So just from those relationships, there were companies that said, "We'll lend you a robot for six months. Do what you want with it. "
Content of the article
And as can be seen in the more than 20 videos he has posted on his YouTube channel Dave's Amoury (www.youtube.com/c/DavesArmoury/videos), Niewinski, his family and friends are having a lot of fun testing the abilities of these borrowed bots.
Whether it's pitting his daughter Maddy against robotic arms in art-based competitions or programming an AI pipe defense system for his store that would inject water into his children when they would get too close, Niewinski said his channel demonstrates the fun and exciting things robots are capable of while offering encouragement and beginner knowledge for viewers who want to explore the field further.
"Everything I do, I put on the Internet for free. Whenever I code for one of my projects, I kind of cover it high-level in the video, but I always make the code available," Niewinski said. "So a lot of what I know… like AI and programming; …much of this is taught on the internet. There's a huge wealth of knowledge out there and it's all about finding it, figuring out what you need to watch…and then tackling it.
"Since I started, I've had a ton of people say, 'I want to get into robotics. I know this is the future, (but I have) no idea where to start. "
Especially in the industrial and commercial world, Niewinski said robotics got a bad rap for supposedly taking jobs from people. Niewinski, however, said the continued implementation of robotics is not about replacing people in the workplace, but about making people's jobs and lives easier and more efficient – another lesson he hopes to convey through his videos.
Content of the article
"In all my years in this industry, I have never seen anyone lose their job to a robot. In the case of a welding robot, we install a welding robot, we operate it, the company produces better parts faster, and the person who was doing the welding (is sent to) school to learn how to be a welder – robot programmer. Now they are paid more, their work is safer and it's is better for their body," Niewinski said.
"I want people to be comfortable with bots, understand what they are, what they can and can't do…and understand how you can leverage bots to improve your business, improve your home or make your life safer," he said.