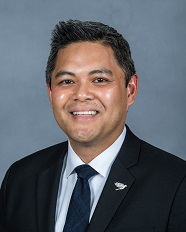 RapidScale, a Cox Trading Company, Hires Ryan Carillo as Cloud Solutions Consultant for Pennsylvania
His expertise in solution selling and deep technology knowledge will help our partners accelerate their business to the next level with managed cloud.

RALEIGH, NC (PRWEB)
August 10, 2022
RapidScale, a Cox Business company, welcomed Ryan Carillo to the company as a cloud solutions consultant for Pennsylvania. Reporting to Director of Sales Brian Baker, Carillo is responsible for helping trusted advisors and channel partners identify cloud opportunities and grow their cloud businesses. As businesses in the region continue to grow and rely on the benefits of cloud-based solutions, partners will be instrumental in improving the efficiency and productivity of their organizations.
Carillo has over 12 years of experience in the software, hardware and services industries and has held sales engineering positions at various companies ranging from small software start-ups to large enterprises. His technical, communication, problem-solving and organizational skills have helped his partners grow their businesses and increase their revenues. With expertise in lead qualification, pre-sales strategies, and technical assessments, Carillo has guided partners in establishing sound forecasts and achieving goals. Previously, he was Senior Director of Channel Sales at MachineQ and held account manager and leadership positions at PCM, ASI System Integration and SoftwareONE. He holds an MBA from Saint Joseph University and a Bachelor of Science and Bachelor of Arts in International Business and International Relations/Studies from Neumann College.
"We are thrilled to have a highly motivated, hardworking and entrepreneurial talent like Ryan," Baker said. "His solution-selling expertise and deep technology knowledge will help our partners accelerate their business to the next level with managed cloud."
"As many businesses in my region are implementing a hybrid workforce and looking for cloud solutions to increase mobility, flexibility and efficiency, many partners are in an excellent position to help solve many of their business challenges today," said Carillo. "With RapidScale's innovative cloud portfolio, partners can deliver a complete solution to their customers, from infrastructure as a service to disaster recovery and backup, SD-WAN, desktop as a service, and more. I look forward to supporting my partners in driving their clients' digital transformations. »
Carillo is heavily involved in his community, actively volunteering with the American Red Cross as a Manufacturing Transport Specialist delivering blood products to clients at hospitals and FIGHT Community Health Centers, which provide culturally competent comprehensive primary care. and at the cutting edge of technology. Primary HIV care for low-income members of the community, as well as research, consumer education, advocacy and social services.
About RapidScale

For IT and business managers looking to scale, secure and simplify their IT, RapidScale, a Cox business company, is the next-generation managed cloud services provider that brings together best-in-class cloud technology under one management portal. unique, enabling IT to accomplish more and deliver an exceptional user experience. By providing easy and secure access to corporate data and applications from anywhere, anytime and on any device, RapidScale sets itself apart from other cloud providers thanks to its team of technology experts. , its award-winning customer support for end users, its flexible co-management options. , and an easy-to-use management portal. For more information on RapidScale, visit http://www.rapidscale.net.
About Cox Business

Cox Communications owns Cox Business and is a provider of voice, video and data solutions for business customers. More information about Cox Communications, a wholly owned subsidiary of Cox Enterprises, is available at http://www.cox.com.

Cox Communications' business division, Cox Business, provides voice, data and video services to more than 355,000 small and regional businesses nationwide, including K-12 healthcare providers and higher education; financial institutions; and federal, state and local government organizations. The organization also serves most major wireless and wireline carriers in the United States through its wholesale division. For more information, please visit http://www.coxbusiness.com.
Media Contact

Nikki Salazar

RapidScale, a Cox company

[email protected]
Share the article on social networks or by e-mail: